In our last blog we referred to the holiday events surrounding the weekend of December 4th.   In this one, we go into a little more detail.  These events are not to be missed!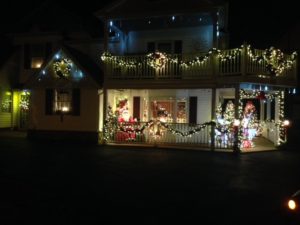 First, many of the homes and businesses will be getting their lights and displays up during the week between Thanksgiving and December 4th.  Why? Because there is a competition for the best decorated home and business on the island.   Photos will be taken and posted on the Solomons Business Association website.  They are asking the public to vote for the best displays through the 30th, with winners announced on December 20th.  Now, photos are great, but wouldn't it be better to see the full effect of each home and business in person?  Come down Friday evening and stay the weekend to ensure you don't miss a thing.
On Saturday, during the day, Anne Marie Sculpture Garden will have their annual Holiday Market from 9am to 2pm.  Local artisans will be on hand to offer gift ideas which are homemade, handmade, and homegrown.  Explore and discover unique gifts, many of which are one of the kind.
On the island, 5 pm is the grand holiday kick off.   Starting with the Christmas tree lighting at the gazebo and followed by Santa's parade through town on the SVD fire truck, distributing candy canes. This year, look and listen for the Full Gospel Businessmen Fellowship in America, Southern Md. chapter, wish Merry Christmas and singing songs of the season.   While at the gazebo, do not forget to drop a letter to Santa in the direct to North Pole mailbox.  Letters may be published on the SBA website right before Christmas.
Also, at 5pm, our own Solomons Victorian Inn will hold an open house of our main floor.  Stop by and meet Shawn and Steve, your friendly innkeepers, see the beautiful tree, and tour our lighted gardens.  Of course, if you are staying with us, you will get to see everything close up and personal!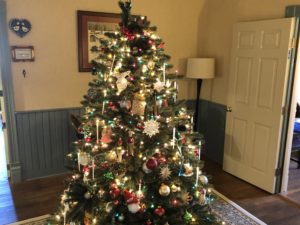 At 6:30, all eyes turn to the river as the annual lighted boat show kicks off from the Solomons Island Yacht club and arriving at the Riverwalk around 715pm.   Stick around for the awards ceremony!  Where is the best place to view the parade?  From your room at the Inn, or right on our front porch, of course!
After the parade, return to the Sculpture Garden for there Garden of Lights display.  A dazzling light display throughout the gardens.  Advance tickets are required.
As usual, all restaurants and many shops will be open and offering specials.
We have a few rooms still available, so book now and get the best seat in the house for this wonderful holiday tradition! See you then!