Solomons Island, Maryland is a destination that's full of rich history and culture that's simply waiting to be explored. Situated on the Patuxent River, the island has played a pivotal role in the history of Maryland since its very inception. Here, you can find numerous landmarks and attractions that showcase the island's unique heritage and charm. So why not take a trip down to Solomons Island and discover its rich history for yourself? In this blog post, we'll delve deeper into the island's history and explore some of the iconic landmarks that have made Solomons Island such a popular destination for visitors.
The history of Solomons Island dates back to the early 18th century when the island was first settled by Europeans. The island was originally known as Bourne's Island and was renamed by Issac Solomons, a wealthy merchant who made the island his home in the 1870s. Solomons was a key player in the oyster industry and helped to transform the island into a lively hub for maritime trade. Over the years, the island flourished as a commercial center for water men and merchants alike, with its bustling harbor serving as a gateway for commerce between the Chesapeake Bay and the Atlantic coast.
One of the most ico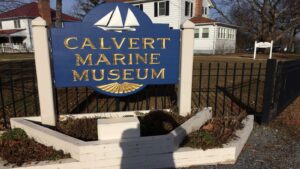 nic landmarks on Solomons Island is the Calvert Marine Museum. The museum is housed in an impressive 19th-century brick building and is filled with exhibits that showcase the island's maritime heritage. Here you can see a wide range of artifacts such as boats, lighthouses, and buoys that reflect the island's unique culture and history. The museum also offers a host of educational programs and activities that are perfect for visitors of all ages.
Another popular attraction not far from Solomons Island is the Annmarie Sculpture Garden and Arts Center. The center is situated on 30 acres of beautifully landscaped grounds and offers a wide range of contemporary art exhibits. Visitors can explore the art exhibits, take part in workshops and classes, or simply enjoy a leisurely stroll through the stunning gardens.
If you're interested in learning more about Solomons Island's rich maritime history, then the Patuxent River Naval Air Museum is the perfect place to visit. The museum is dedicated to preserving the island's naval aviation heritage and houses an impressive display of aircraft and artifacts. Visitors can learn about the island's role in naval aviation and see firsthand the aircraft that were used in this fascinating chapter of American history.
For those who enjoy the great outdoors, Solomons Island has plenty of natural beauty to explore. The island is home to the Solomons Island Riverwalk, a scenic strolling route that offers stunning views of the harbor and surrounding landscape. Visitors can also take a cruise on the Patuxent River, explore the nearby beaches, or take a bike ride along one of the many scenic trails that crisscross the Southern Maryland area.
From its early origins as a bustling maritime center to its current status as a thriving tourist destination, Solomons Island has plenty to offer visitors of all ages. Whether you're interested in history, art, or the great outdoors, there's something for everyone on this oasis of culture and charm. So why not pack your bags and head down to Solomons Island today to experience this unique destination for yourself?
Are you looking for a warm and welcoming home away from home, in the tranquil seaside town of Solomons, Maryland? Look no further than Solomons Victorian Inn, a charming bed and breakfast that offers the perfect balance of timeless elegance and modern convenience.