When Shawn and I first moved to Solomons Island, and became owners of the Solomons Victorian Inn, the first question friends and family asked was "what do people do there?".   Well, since Memorial Day weekend, we have had over 1000 guests stay with us and discover the wonder of the western shore of the Chesapeake Bay.  Allow me to take a few moments to give you a brief tour over the next few blogs.
First, there is the Solomons Victorian Inn itself.  Built in 1906, by shipbuilder Clarence Davis, the inn still has the charm of what once was described as "the most pretentious house on the island".  While the home has been updated with all the modern amenities, there is an air of Victorian America still in the air.  After enjoying our gourmet three course breakfast, relax in our parlor, on the front porch, or maybe in our garden.  Then, if you choose, you can explore all that Calvert and St. Mary's County has to offer.
Outdoor enthusiasts will enjoy the myriad of hiking, boating, and fishing opportunities.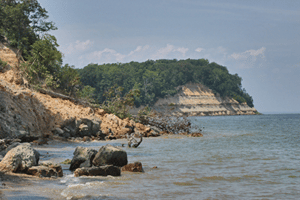 Calvert Cliffs State Park is famous for being the mecca for ancient fossils found among the layers of rock within the cliffs.   The beach, especially, is frequented by those intrepid souls search for shark's teeth and sea glass.  The beach is a brief 1.8-mile hike from the parking area.  In addition, there are at least three other trails, picnic areas, a fishing pond, and over 500 acres of hunting ground in season. All within ten minutes of the inn.
Flag Ponds Nature Park is another discovery for those new to Calvert County. Here you can find Beach combing, Bird watching, Cross-country skiing, Observation piers at pond and on the bay as well as Fossil hunting. During the summer, swimming is available, however this is an unprotected beach.
Solomons Boat Ramp and Fishing Pier is open 24 hours a day during the season.  Comfort stations, Tack and Bait Shop and, of course, the Fishing and Crabbing Pier are open April 1 to November 1.
A little further afield is Jefferson Patterson Park, the American Chestnut Land Trust, and the Battle Creek Cypress swamp.  All of which highlight trials, historical interpretive exhibits, and audio tours.
So, the next time you are coming to Solomons Victorian Inn, be sure to check with me for current hours and activities scheduled at these locations.   Next month, we will look for places visitor to the island can frequent when the weather is not amenable to outdoor activities – See you soon